Lourdes & William got married in Waterfront Park, right by the Pineapple Fountain! Of all the engagement sessions I've done downtown in that area, I was thrilled that Lourdes and William chose me to photograph their special day.
Lourdes had the neatest veil – so stylish!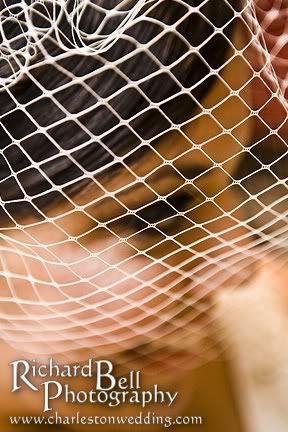 She is such a fun person, and a natural at modeling! (And the sunset lighting was ideal!)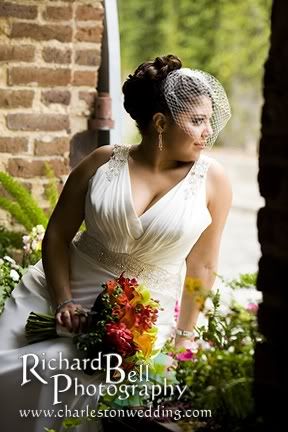 Her parents came all the way from Venezuela for her wedding! Here's a fun selective color edit I did of her dad walking her down the aisle: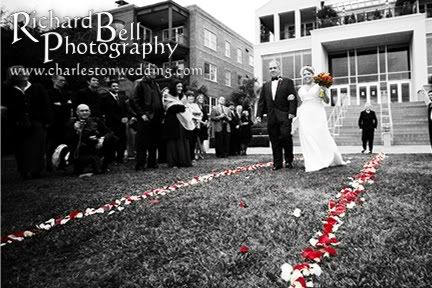 William and Lourdes smiled the whole ceremony. It is easy to tell that these two are very much in love!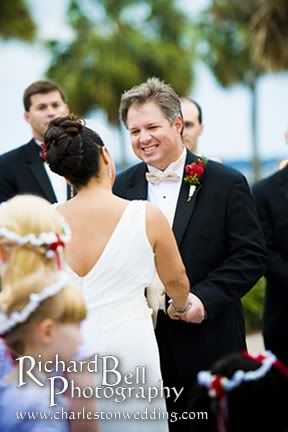 Here's one with a good view of the pineapple fountain. (Did you know that the pineapple is an international symbol of welcome? Just another tidbit of Charleston History from your photographer-tourguide, haha!)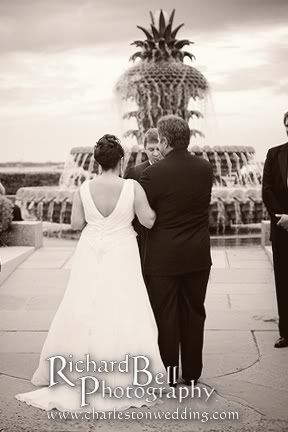 It got dark so fast…and we had to get creative with lighting!

Shooting a large wedding party in the dark of night was a huge challenge…and the pictures turned out to be so neat and unique! I love this one:

I love this one of Lourdes and William in the alley by Waterfront Park. We snapped this one quickly on our way to the reception!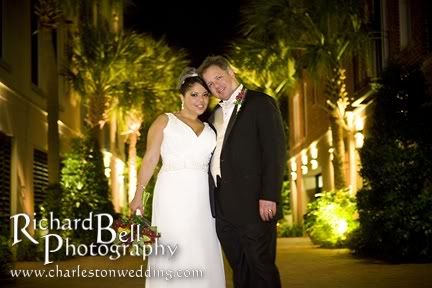 William & Lourdes have such a great sense of humor between them. She wore red shoes (which I think is fabulous) and her bridesmaids had red dresses. To be funny, William (and all of his groomsmen!) wore red socks to match.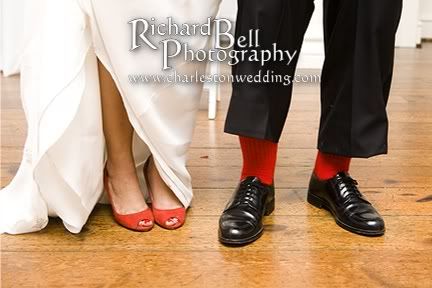 This one captures so much of their personality in the "looks" they give each other. I love it!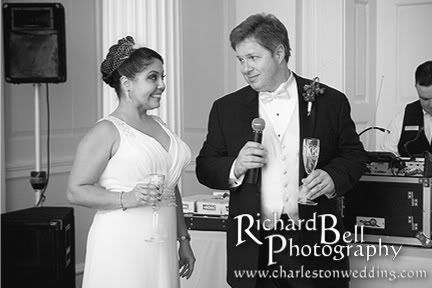 Please check out their entire wedding album design here: http://www.charlestonwedding.com/weddings/nogueira
/wp-content/uploads/2014/04/rb-logo-04014-300x88.png
0
0
admin
/wp-content/uploads/2014/04/rb-logo-04014-300x88.png
admin
2008-11-24 13:08:52
2008-11-24 13:08:52
Wedding at Waterfront Park, by the Pineapple Fountain in Historic Charleston!